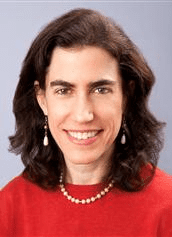 Since 1987, Gail J. Berritt has been helping her clients guard their intellectual property and address business risks. She applies her experience in a cost-effective manner to help companies expand their businesses through marketing, licensing, and other contractual arrangements.
She assists companies in managing legal risks in the use and distribution of products and services, whether delivered online, through the "cloud" or through traditional channels. She also designs strategies for protecting intellectual property and customer privacy.
Gail's clients range from start-ups to multinational corporations. Many of her clients are software licensors and business process outsourcers, but she also works with numerous companies in health care, publishing, consumer products, and other industries.
Gail has extensive experience working at big law firms in their intellectual property departments. Gail was counsel to Brobeck, Phleger & Harrison in New York City.
At Brobeck, she worked primarily with start-up and mid-size companies in structuring their customer and distribution agreements, negotiating agreements with information and software suppliers, developing licensing programs, drafting web site privacy policies and many other matters. She also provided expertise in strategic alliances and revenue-sharing arrangements.
Before joining Brobeck, Gail was a partner at the Chicago law firm of Gardner, Carton & Douglas (now Faegre Drinker). While at Gardner, she counseled Fortune 500 manufacturers and service providers to address their contractual needs, including sophisticated outsourcing agreements and multinational distribution contracts. She also served as a member of the firm's Cyberlaw Practice Group and Co-Chair of the Health Information and Technology Group.
Gail has spoken and written on licensing, e-commerce, and intellectual property topics. She received her law degree from Brooklyn Law School (magna cum laude, Brooklyn Law Review editor) and is licensed to practice law in Connecticut, New York, and Illinois.